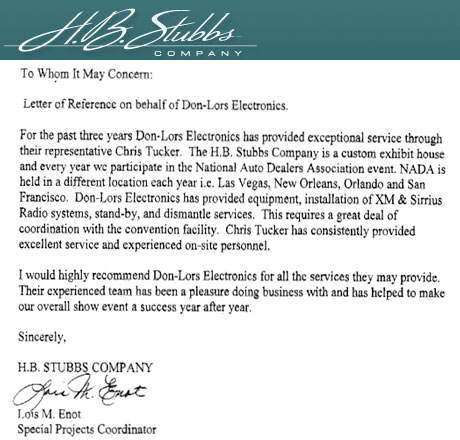 "By working together with Don-Lors we are able to consolidate all of our audio/video requirements in a single vendor. From pre-wire, to sound, TV and all the hardware we need, Don-Lors handles it all without any stress. They even install and service our Members only, corporate network. Using one trusted and professional vendor saves us time and anxiety and has actually been a big reason for how quickly our company has grown over the last few years."
Barbra Carney, Administrative Supervisor

"As part of the National Transportation Association, it is imperative that we are in constant contact with anything involving the weather and world events. Our Dish Network System has been flawless and so was the service we received from Don-Lors."
Chuck Eckhardt, Area Supervisor

"Don-Lors did great work for us. They responded immediately to our request and had us up and running the next day. I would highly recommend them."
Aaron Germaine, General Manager

"Install was smooth and quick. Everything is working great. Everyone at Don-Lors delivered as promised!"
Steve Chasar, Salt Lake City Manager

"Working with your company was a pleasure. From the Sales Rep to the Installer, everyone delivered as promised."
Deborah Terry, Sales Manager

"Great job. Thanks for getting us installed so quickly and for working with our budget. I didn't realize we could have T.V. at work at such a reasonable price."
Anita Collins, General Manager

"The installation went very smoothly and we have been extremely pleased with the quality and professionalism of everyone we've worked with from your company."
Debbie Milner, Facilities Manager

"Thank you for the tremendous job you did for us at the NBA All Star Game this year. Over the past four years during the NBA finals, it is always a pleasure to hit the ground knowing I won't have any issues to deal with. We look forward to working together again at this year's Championships."
Michael Goodger, National Basketball Association

"I have been working with Don Lors Electronics for 5 years now and they have gotten the job done every time I have needed them. You do not have to worry about your event and can rely on Chris and his team."
Jeff Hrabovsky, Account Supervisor-Promotions, Campbell-Ewald

"Don-Lors Electronics provided a solution to our unique installation for a major automotive OEM. Their prompt and professional service was performed in conjunction with a pilot program which has nationwide implications. Don-Lors understanding and ability to meet the demands of a large corporation makes them a company we will continue to work with in the future."
Jeremy Eckhous, Account Director, Collaboration LLC

"Always reliable and never a concern."


John E. O Keefe, Account Executive, Exhibit Enterprises, Inc